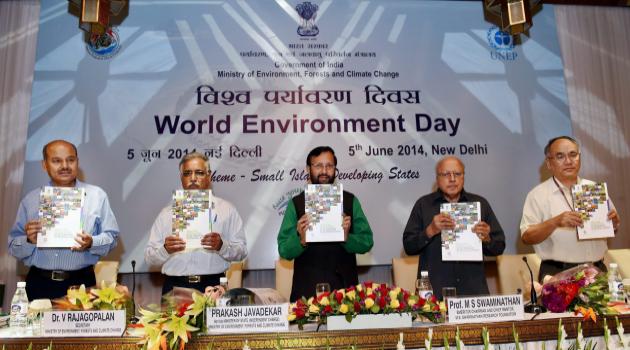 Ministry Against Environment & Forests?
20/09/2014
During his election campaign, Prime Minister Modi repeatedly assailed the environmental regulation prevalent in the country at the time for obstructing development and damaging India's economic growth. It was clear even then that a future Modi-led government would move swiftly to reduce hurdles arising from environmental objections to developmental projects, as long demanded by Indian corporate lobbies, a process already initiated by the UPA-II government towards the end of its tenure.
Under the new Ministry for Environment, Forests and Climate Change (MoEFCC), the last having been added on to the Ministry's name under the BJP dispensation, this intention is being determinedly translated into action. Even those who anticipated such changes have been somewhat surprised by the speed and scope of the actions taken. As it is, environmental regulation had barely begun to establish its legitimacy and finding its due place in the Indian governance architecture, constantly facing opposition from corporate circles and from entrenched political and bureaucratic vested interests. At a time when environmental regulation was being mainstreamed in most developed countries and in many large emerging economies, one may have hoped that India too would move towards institutionalizing governance systems that would no longer see environment and development as mutually contradictory or even antagonistic but as both being essential parts of integrated, sustainable development.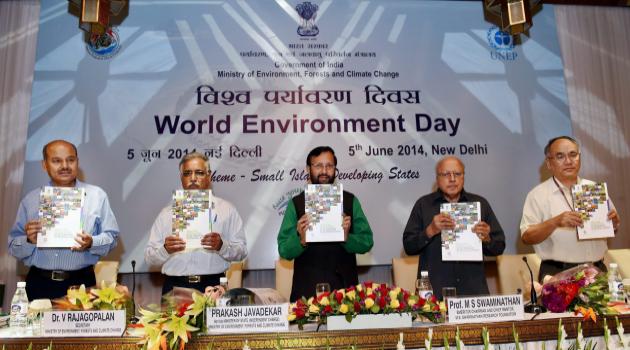 Courtesy: envfor.nic.in
In contrast though, the steps being taken by the Modi government are tantamount to a virtual dismantling of the nascent environmental regulatory system and institutional structure in India. Many might have agreed that the earlier somewhat ad hoc, subjective and bureaucratic system was resulting in considerable delay and uncertainty causing setbacks to the investment climate, and keeping pending or denying clearance to several important developmental projects for which via media required to be found. But the present dispensation seems to care little for the baby in the bathwater, and has made environmental clearances routine while due diligence in environmental assessment seems to have become an exception. The doors have thus been thrown wide open for a laissez faire exploitation of natural resources and rampant damage to the environment for which the nation, especially future generations, would have to pay a massive cost.
Summary clearances Projects are being cleared by the MoEFCC at breakneck pace. More than 140 pending projects have been given past-track clearance by revamped and hand-picked approvals Committees. Forest clearance has been granted to over a hundred Projects in quick time. Numerous coal mining projects in forest areas have also been cleared under new guidelines.
Problem is that clearance processes and criteria are even more ad hoc than before. No scientific criteria has been laid down and the approvals process completely lack transparency. While the Ministry claims greater transparency now, citing the newly instituted on-line applications procedures with time limits, this so-called transparency does not extend to due diligence or criteria adopted for clearances. Whereas earlier fairly detailed minutes of approvals committee meetings would be published, the Ministry website now only blandly lists approvals granted without making clarifying the decision-making process. It appears that only some calamitous ecological damage would now prevent award of environmental clearance which is now the default outcome!
Numerous industrial, mining and infrastructure development projects have either been summarily cleared or are expected to be given clearance in the coming months according to Ministry officials speaking off the record to the media.
The long-pending Renuka Dam project on a tributary of the Yamuna in Sirmaur District of Himachal Pradesh which is expected to deliver water to Delhi has been given approval by the Forests Advisory Committee (FAC). Reportedly, tribal and forest-dweller rights have not been settled nor has the requisite land been fully demarcated, with the FAC seeking the necessary documents from the concerned agencies subsequently rather than prior to clearance as required under the Forest Act and the Scheduled Tribes Act. That the Modi government was very keen on this Project was evident from the allocation of Rs.50 crore made in the Union budget even before environmental clearance was obtained!
The Renuka Dam project has been dogged by controversy, not only because of the required diversion of over 900 hectares of forest and the displacement of many villages. The very purpose of the dam, to supply water to Delhi, had earlier been questioned by the Ministry of Environment on the grounds that Delhi should reduce its distribution losses, improve its demand management, enhance water harvesting and rectify the overall mismanagement of water resources before seeking additional water through expensive and environmentally questionable out-of-state projects.
A dam on the Kalisindh in Rajgarh District of MP, which would form part of the Parbiti-Kalisindh-Chambal river-linking project involving Madhya Pradesh and Rajasthan, has also been cleared at a time when maintaining river flows is being accorded due importance by hydrologists.
In another instance of the fondness of the BJP government for the controversial river-linking project and other big-ticket projects regardless of their environmental impacts, the Ken-Betwa river-linking project, reportedly being pushed by the Water Resources Ministry headed by Ms.Uma Bharati and involving diversion of over 6,000 hectares of the Panna Tiger Reserve in MP, is also said to be on the verge of obtaining clearance from both the Forest and Wildlife panels. Readers may recall that a small tiger population has been reinstated in Panna through relocation from elsewhere and is maintaining a precarious existence there after tigers had become extinct in the Panna Reserve during the last decade. Over 1600 households would be displaced, including around 800 households within the Panna Reserve, who are planned to be given compensation under relevant wildlife-related provisions rather than the higher amounts they would be entitled under the Land Acquisition Act for displacement due to developmental projects.
Summary clearances for many other industrial and infrastructure projects are said to be in the pipeline. These include ONGC's oil drilling project in the sensitive Andaman & Nicobar Islands, Reliance's post fcilities in Jamnagar in Gujarat, infrastructure related to the SEZ in Dahej, Bharuch District in Gujarat and so on.
These and other clearances have been done by modifying scrutiny and consideration procedures, most often through office memoranda and circulars. As we shall see later, many of these are in in violation of existing laws and rules, legal challenges being brushed aside. Serious preparations are underway for wholesale changes to environmental legislation and other related statutory provisions.
Attack on Regulatory Institutions Evidence is growing that the institutional structure for environmental regulation is being deliberately and systematically dismantled.
As already mentioned, the various Committees to scrutinize projects and award clearances are being packed with persons who are already prone to or will agree with the BJP government's idea of fast-track clearances being the default option with objection on environmental grounds being the rare exception. Where necessary, the rules regarding constitution of these Committees are either being ignored or are being modified. These Committees were initially formed so as to remove discretionary powers from officials, but this purpose is totally defeated if the Committees are filled with compliant persons, clear projects as per the wishes of the powers that be, do not sincerely conduct due diligence based on clear criteria and follow non-transparent decision-making processes.
The Ministry had constituted a new and purportedly compliant Standing Committee for Wildlife clearance, without properly constituting the statutory Wildlife Board. This Committee and the clearances granted by it were recently struck down by the Supreme Court which demanded that the Wildlife Board be reconstituted with representation of external experts and NGOs as required under the Wildlife Act. Under guidance of Minister Prakash Javadekar the Ministry has apparently now decided to reconstitute the Board with hand-picked nominees that would enable it to push through decisions, thus frustrating the purpose of the Act's provisions and the directions of the Supreme Court.
Hurdles posed by Environmental Impact Assessment (EIA) are proposed to be overcome by shifting the EIA process to the States from the Centre. While in principle there can be little objection to a process of decentralization, in practice environmental regulation of large projects is best done by a federal regulator, as is the practice in most countries as well as in other sectors in India, which not only has overriding jurisdiction but also has better capability and national accountability through Parliament. It is also known that revenue starved and investment-hungry States forced into competition with each other by a self-aggrandizing and capricious Centre would be even more vulnerable to corporate pressure than the central government. Hiving off EIA to the States is a convenient option taken by the MoEFCC to further accelerate the process of degrading the institutional structure of environmental regulation.
The Modi government is also said to eb actively working towards cutting the National Green tribunal down to size. Proposal is to de-fang the NGT and change it from a judicial body to a recommendtory or administrative body, thus ensuring that it cannot overrule executive decisions.
And just in case various extant legislations stand in the way of these changes being contemplated and the untramelled exercise of authroty of the executive branch, the government has set up a Committee to "examine" the Environment Protection Act 1986, the Forest Conservation Act 1980, the Wildlife Protection Act 1972, the Water (Prevention and Control of Pollution) Act 1974 and the Air (Prevention and Control of Pollution) Act 1981 with a key mandate being to "recommend specific amendments needed in each of these acts to bring them in line with current requirements to meet objectives." One may well anticipate "command performance" recommendations since the current requirements and objectives of the Modi-led government appear quite clear.
The MoEFCC may as well be renamed Miinistry against Environment & Forests!