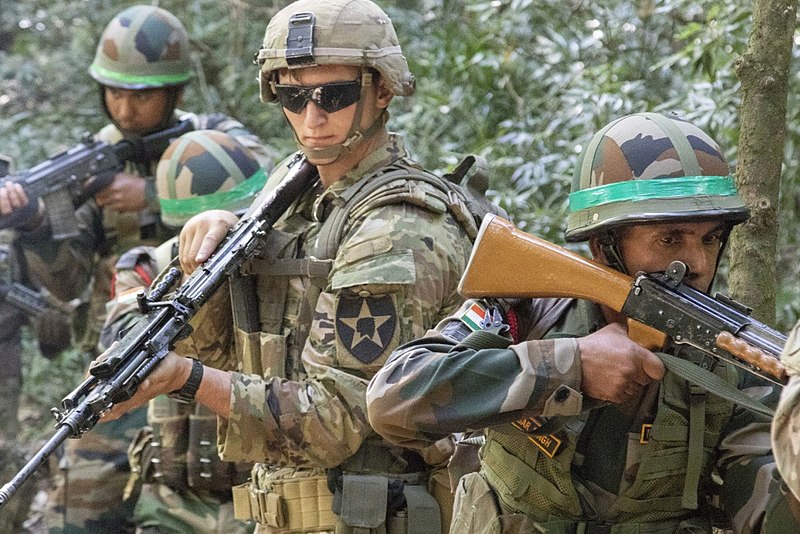 India Signs BECA: Sealing the US-India Military Alliance
08/11/2020
INDIA finally signed the BECA (Basic Exchange and Cooperation Agreement on Geo-spatial Cooperation) accord with the US during the 2+2 Meeting between the foreign and defence ministers of the two countries in New Delhi on October 27, 2020. BECA is the fourth of the so-called foundational defence agreements between India and the US. The US has variations of these four agreements with its NATO and other allies or close international partners, as well as with many countries to which it sells military hardware. These agreements enable the US, under arms export legislation, to sell advanced military platforms, share military facilities and, where provided for, share high-tech communications and intelligence technologies and services, together promoting inter-operability and smooth joint operations between the US and its allies.
With this, after almost two decades of negotiations, and much discussion within the political, diplomatic and military establishments, India has entered into what is, for all practical purposes, a military alliance with the US. The fact that two senior cabinet members of the Trump administration traveled to Delhi barely a week before the US presidential elections shows the long-term commitment of the US state to the strategic and defence partnership with India.
ROAD TO DEFENCE ALLIANCE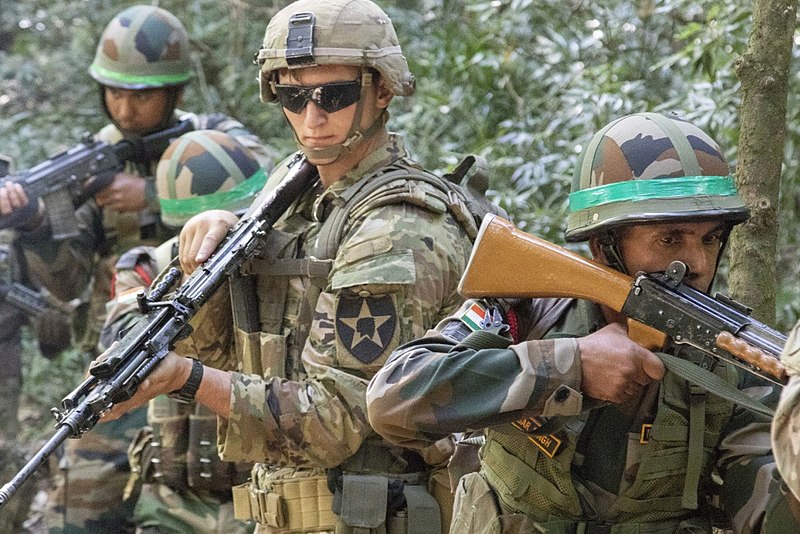 Image Courtesy: commons.wikimedia.org
Since the early 1990s and the collapse of the Soviet Union, India had been moving closer to the US, the world's sole and undisputed superpower, especially in geo-political terms. The blossoming bromance ran into trouble after India's declared nuclear weapons test in May 1998 during the Vajpayee government, triggering US-led international sanctions and a prolonged chill in relations. The supposed convergence in strategic interests drove both countries to somehow try to overcome this huge hurdle. Establishments on both sides concluded that a solution to the nuclear weapons issue was essential to open the door to a wider strategic partnership that each wanted with their own rationale. The US was keen to draw India into its strategic embrace, for which a nuclear deal was necessary under prevalent US legislation, while the Indian establishment saw a US partnership as essential for a coveted place at the high table of big powers. As is known, this entire perspective, and the developments to follow, were strongly opposed by the Left and substantial sections of strategic and public opinion in India.
A sustained and intensive dialogue between the two countries over a decade and a half, straddling Republican and Democratic administrations in the US, and BJP/NDA and Congress/ UPA governments in India, culminated in a nuclear deal tacitly accepting India's nuclear weapons status and enabling the US to enter into strategic and defence partnerships with India, especially export of advanced military and dual-use technologies.
The US and India first entered into the General Security of Military Information Agreement (GSMIA) in 2002. In July 2005, during the visit of then Indian PM Manmohan Singh to the US, the latter formally agreed to proceed with the nuclear deal, and both countries signed a Defence Framework Agreement, a hallmark event explicitly recognised in the joint statement after the recent 2+2 Meeting in Delhi. It took another three years for the US-India Civil Nuclear Agreement to be signed in 2008, but the strategic and defence partnership had by then been cemented.
FOUNDATIONAL AGREEMENTS
However, translating the same into practical arrangements required three other foundational agreements to satisfy US legislations.
The Logistics Exchange Memorandum of Agreement (LEMOA, 2016) provides for mutual use of defence facilities and logistics on credit, and the Communications Compatibility and Security Agreement (COMCASA, 2018) provides for sale of high-tech US defence platforms and sharing of encrypted communications. The signing of BECA (2020) completes the strategic and defence alliance architecture. Together these enable seamless inter-operability between the two militaries, as the US has with its NATO and other allies and partners.
Since 2005, it has taken considerable time to work out mutually acceptable India-specific versions of the boilerplate agreements the US has with NATO, other allies, and importers of US defence hardware. A wide spectrum of the Indian political, strategic and military communities, wary of deep entanglement with US military and geo-strategic architecture, and related threats to India's strategic autonomy, resisted this emerging strategic and military alliance. As the dates of the agreements show, however, the big push brushing aside these concerns has come under the present BJP-led government.
BURGEONING US DEFENCE EXPORTS
In avidly pursuing a military-strategic partnership with India, the US always had another ancillary goal, namely to acquire a substantial slice of the lucrative Indian defence imports pie.
The US had virtually zero share of this market earlier due to deep-seated suspicion of India's non-alignment policy throughout the Cold War years and the Soviet Union supplying the major proportion of India's military equipment needs, and later due to US export restrictions related to the nuclear weapons issue. The nuclear deal and the Defence Framework Agreement changed all that and opened up US arms exports to India.
The US galloped to become a leading exporter of military hardware to India, especially niche or advanced weapons, in many years recording higher sales value than Russia or Israel, a more recent arms supplier to India. Starting virtually from zero, the US has by now sold $18 billion (Rs1.26 lakh crores) worth of military equipment to India, with many more deals in the offing! The US has thus been able not only to gain a valuable military-strategic ally straddling both flanks of the Indian Ocean, but also to reap rich dividends in US arms exports, the same double-benefit pattern of US military tie-ups around the world, with only the UK and some EU nations having their own competitive arms industries.
COMCASA opened the door even further for US sales to India of military platforms with advanced technologies. India acquired Boeing C-17 Globemaster III transporter aircraft and C-130J Super Hercules troop carriers from the US, but only with commercially available encrypted communication systems. Advanced encryption systems were retrofitted only after India signed COMCASA. The two recently acquired specially-outfitted Boeing 777 aircraft for the president, vice-president and prime minister, earlier came with several self protection measures (SPS) but, prior to their arrival in India on October 1, 2020, were retrofitted with highly encrypted communication and other systems in given the BECA signing.
ADVANCED TECHNOLOGIES AS BAIT
The US will now undoubtedly push, and India would be tempted to acquire, platforms with advanced technologies providing real-time linkage with US geo-spatial, navigation, intelligence and networking systems. Advantages are encrypted communications, real-time intelligence, greater accuracy for targeting and ordnance guidance systems, and superior networking.
It comes as no surprise that, during the 2+2 Meeting in Delhi, the US pushed the Boeing F/A-18 E/F Block III Super Hornets for the Indian Navy's requirement of 56 aircraft carrier based fighters, for both the INS Vikramaditya (refitted Russian Kuznetsov) and the under construction indigenous carrier INS Vikrant, arising from the retiring Russian naval MiG-29 and naval LCA variant being many years away from realisation. The F/A-18s have been in service for almost 40 years, but the latest versions with contemporary avionics and communication systems are still in production for the US Navy. These fighters also have in-built systems for networking with the Boeing P8i maritime reconnaissance aircraft, which the Indian Navy already has with additional numbers under order, and can probably link with other US systems.
The US also offered the armed Guardian or Predator drones, which all three services in India have long wanted. Sale of these armed drones was approved in principle by the US earlier this year after India signed COMCASA, but their effectiveness would be hugely enhanced with real-time intelligence and geo-spatial links with US systems now enabled by BECA.
DANGER OF US LOCK-IN
On the other hand, the negatives involved are very high. First, India faces the real danger of getting trapped into a lock-in with US hardware and communications and intelligence (COMINT) systems, making these virtually essential for operations of the Indian military, even when India operates on its own. Second, future acquisitions too will lean heavily towards US systems, preventing India from diversifying its defence imports. Third, and importantly, Russian armaments especially fighters will not be able to 'talk' to US systems without special hardware and software which both the US and Russia will resist. A dilemma has already arisen regarding the Russian S-400 anti-missile system, threatening the deal itself. This is an extremely serious corollary of the US tie-in, because it may lead to long-term de-linking from Russian military platforms, with many undesirable consequences for relations with Russia. India would incur high costs if it alienated Russia, both geo-politically and vis-à-vis India's neighbourhood, in an increasingly multi-polar world. Finally, will all the benefits actually be available in practice from the US at all times, against all adversaries, and in real-time, regardless of circumstances? Or will they kick-in only if and when India engages in joint operations with the US?
All this will impact adversely on India's strategic autonomy, zealously preserved till now. In sum, the benefits may be ephemeral, but the costs may be very high… and very real.