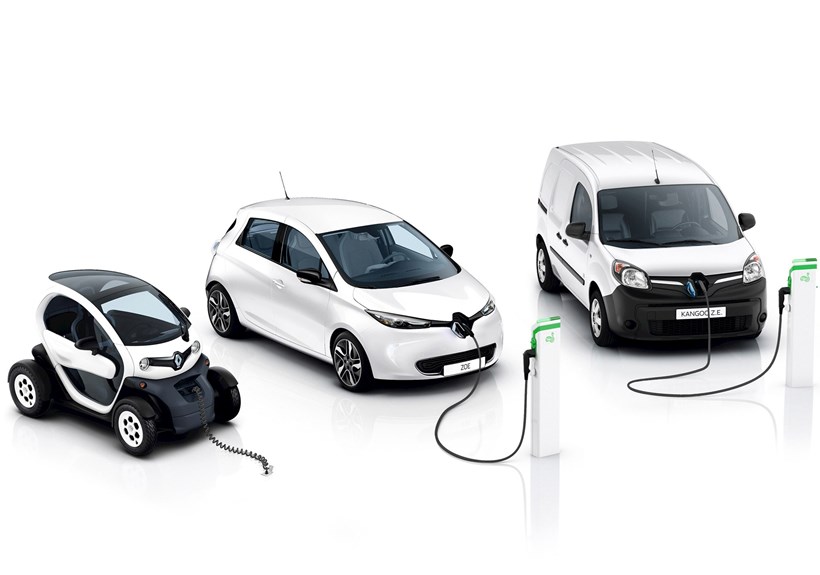 Fiat-Chrysler and Renault Mega Auto Merger
02/06/2019
ITALIAN-US automobile major Fiat-Chrysler Automobiles (FCA) has proposed a 50:50 "merger of equals" with Renault (pronounced reno) of France which the latter, and major shareholders of both companies, have responded favourably to. If and when the merger does go through, and we shall discuss the ifs and buts later, it will create the world's third largest auto maker behind Toyota of Japan and Volkswagen (VW) of Germany. Currently, FCA and Renault put together produce 9 million cars a year for total combine sales of $190 billion and profits of around $11 billion, whereas Toyota and VW each make around 10 million. FCA is also in an alliance, but is not merged with Japanese firms Nissan and Mitsubishi, which together produce 4 million cars. The FCA-Renault merger therefore creates a giant entity and takes consolidation in the global auto industry to a new level.
The merger itself was pursued by two giants of a different kind, the respective heads of the two companies in the recent past, the legendary Sergio Marchionne of FCA who died last year, and the once highly regarded Carlos Ghosn (pronounced "ghone") of Renault and later Nissan, who is presently in prison in Japan charged with financial wrongdoing at the latter. Marchionne had long called for consolidation in the auto industry in view of dropping margins, now also dropping sales, the need for scale, and the enormous investments required for the inevitable transition to new technologies, chiefly electric vehicles (EV) and driverless cars. Marchionne was therefore ardently pursuing various options while Ghosn brought about the Renault-Nissan-Mitsubishi alliance, and was keen that FCA join it too. Both would probably have loved to head this new colossus. This merger was perhaps enabled by the passing from the scene, in different ways, of these two larger than life figures, whose personal ambitions and egos may have stood in the way earlier.
The proposed merger has many positives in its favour, in terms of the complementary product profiles and geographical coverage the two entities bring to the table, and especially with regard to the technological imperatives of the auto industry at the present juncture. However, there are also some dark clouds on the horizon that may spoil the party, both before and after the merger.
BUSINESS FIT
Already on a downward spiral of sales in Europe, Fiat had gladly stepped into the breech when Daimler, which had earlier taken over Chrysler after its collapse during the banking and financial sector meltdown in the US, found it difficult to manage its American partner and the US market. Chrysler has some popular brands in the US in the SUV and pick-up segment, such as Jeep. Fiat has a good if weakening base in Europe, with a clutch of premium brands such as Alfa Romeo and Maserrati which, however, sell in small volumes despite their iconic brand value.  Broadly speaking, most of FCA's profits today come from US markets.
Renault on the other hand is strong in Europe, especially in smaller less expensive cars, and has an expanding presence in Asia, thanks to Nissan. The main strength that Renault brings to the alliance, though, is in the technology of the future, electric vehicles. Renault, alone among all the merged entities, has a full range of EV models in different segments of the car industry, and can bring those into play in the US market and with FCA's premium European brands. All automakers currently based solely on internal combustion engines face a very uncertain future, even as early as the next couple of decades, especially in Europe and Asia. Renault's expertise and experience with EVs offers a way out.
The merger also of course achieves the scale that both Marchionne and Ghosn pushed for as a response to economic turbulence, dropping sales volumes and challenges of new technologies. Both Fiat-Chrysler and Renault are too small to withstand current headwinds and the challenges of the future, and the merger gives them a chance. However, FCA-Renault also faces a challenge as regards the problems the merged entity faces prompted precisely by its size and complexity.
Many auto industry and business analysts argue that the success of Ghosn's model of a loose alliance, rather than a merger, of Renault-Nissan-Mitsubishi, lies in the flexibility it provides to build synergies where possible and operate separately where required. FCA too is working well because each entity has remained separate for all practical purposes. Daimler-Chrysler failed in trying to force united or joint operations by two very different entities in very different markets.  Other mergers of auto majors too have faced similar failures, like BMW-Rover, GM-Fiat, and the many mergers and alliances that Ford has tried.
The FCA-Renault merger faces potential clashes of interest especially where Renault's alliance with Nissan are concerned. For instance, Nissan competes with Chrysler in the lucrative and sizeable US market for pick-up trucks and SUVs. There are other ways too that issues in the US market may well create complications. Chrysler's Jeep, Dodge and Ram truck brands have historic strength, brand value and customer resonance in the US market, and it is difficult to see what additional strength the merged entity brings to them, increasing potential for impulses to pull away from it.
There is also much lingering bad blood between Renault and Nissan, especially around the role of former chairman and CEO Carlos Ghosn, who simultaneously held similar posts at Renault and Mitsubishi. While Ghosn has been widely praised for his success between 1999 and 2005 in turning around a near-bankrupt Nissan, it was also widely rumoured that he and his European business methods and managerial style clashed badly with the Japanese business culture. Due to Renault's heavyweight holding of 43.5 per cent shares in Nissan (which in turn holds 15 per cent in Renault), he was pushing hard for a full merger, but was strongly resisted by Nissan's board, especially since at this time Nissan was selling more cars than Renault and earning much higher profits, especially in the vast Chinese market where neither FCA nor Renault has any presence. In 2018, Ghosn was arrested in Tokyo for financial wrongdoing at Nissan and remains in custody in Japan, and has been removed from all posts at both Nissan and Mitsubishi. Ghosn has accused Nissan of deliberately engineering his arrest, which Nissan has strongly denied, while Renault holds him innocent until proved guilty. The Nissan-Renault relationship may turn out to be the joker in the pack.
TECHNOLOGICAL CHALLENGES
The biggest challenge to the contemporary auto industry comes, of course, from the era of internal combustion engines drawing to a close, and the emergence of new technologies to replace fossil-fuel burning automobiles such as EVs and autonomous vehicles (i.e., driverless cars), and new IT-led business models re-shaping consumer behaviour and the auto market through car-hailing and ride-sharing services.
Adding to the challenge to traditional auto makers, the competition to develop viable EVs is coming not only from other auto makers but from new entrants such as Elon Musk's Tesla and several smaller specialist EV makers all over the world. Similarly, the challenge from autonomous vehicles comes mainly from Silicon Valley such as Google's Waymo or Delphi. The cost of developing new cars, testing, overcoming regulatory hurdles and the race to get them on the road quickly is sky-rocketing. Companies like Tesla whose core competencies lie in electrification and Lithium batteries are struggling with the automobile platforms. Likewise, IT majors who develop AI, robotics and guidance systems of autonomous vehicles too have few if any strengths in automotive platforms. All this has pushed companies to look for collaboration with other firms that will enable synergies of skills and know-how, and share the work load and financial burden. For instance, Germany's BMW and Daimler are together investing $1 billion to develop ride-sharing and charging services, and Ford and VW are joining to develop new EVs.
Carmakers also need to respond to changes in the changing nature of transportation in the future. Uber and other car-hailing service companies are looking to develop their own fleets of cars, especially EVs and autonomous vehicles, and are also exploring collaborations. These are likely to disrupt car ownership patterns with consumers, especially younger people, preferring not to own a vehicle themselves, but use one of these services, and car-hailing companies becoming bulk fleet customers.
Many auto companies are likely to simply go out of business if they are unable to keep pace with these changes and adjust to the new technologies and business models, and forge new partnerships to facilitate this. The new challenges also come at a time when global auto sales are falling across the world and margins are thinning due to competition in a shrinking market. Not just Europe and the US, but even the once booming car market in China is falling and India registered its first quarter of absolute drop in numbers sold. Car makers must also face ever more stringent emission norms, pushing costs up even more. With all these headwinds, many famous household names of today's auto-makers are like to vanish a decade from now.
Is the merged FCA-Renault well placed to meet these challenges?
Renault is the market leader for EVs in Europe, currently selling one of every four EVs. However, Renault is not a technology leader and many firms have better electric motors, transmission drives and batteries. It is surprising that with enormous amount of literature and popular write-ups on EVs, so little is written about the electric motors that are at the heart of these vehicles, whereas much more is written on the batteries. Even brochures of EVs have barely a line or two about the motors. Conversations of conventional car enthusiasts are full of cylinder head shapes, valve timings and cylinder configurations, fuel injections and turbo charges, but there is almost total silence when it comes to electric motors. It is therefore not widely known that there is much scope and requirement for innovation, and most EV makers invest vast amounts in increasing motor efficiencies which will in turn increase speeds and stretch battery charging cycles.
The FCA-Renault merger hopes to save EUR 5 billion a year from savings in efficiencies in common components, sharing investments in new platforms and engine technologies which it hopes to invest in EVs, autonomous vehicles etc. However, fearful of adverse reaction from European governments, they have promised to not bring about savings through job cutting or plant closures.
The merged entity would also gain from an on-going emissions credit deal that FCA has with Tesla which could be built on for new EV technologies or platforms. FCA, whose cars have high emission levels, fell foul of stiff EU regulations for fleet-wide CO2 emissions. To avoid steep fines that threaten to put some car-makers out of business altogether, FCA entered into an agreement with Tesla whereby the Tesla fleet's zero emissions would be counted in FCA figures in exchange for around $1billion that FCA would pay Tesla.
OTHER CHALLENGES    
Some other challenges too remain for the FCA-Renault merger.
Most analysts believe the merged entity has too many brands, making management difficult. Further, the poor performance of premium brands such as Afla-Romeo and Maseratti, and even Nissan's Infiniti, on which huge amounts were spent to develop new models, shows that the new entity may not have capability to manage luxury brands, which does not bode well for high-end EVs.
Renault once used to be state owned. After a prolonged privatisation process, the French government now owns 15 per cent stake in Renault, with double voting share on the Board, and a virtual veto on major decisions. It is not known if the French government will shed its "golden share." To complicate matters, Italy's far-right nationalist PM Matteo Salvini of The League has indicated that he too may seek a similar stake in FCA-Renault.  In Europe, car companies and the automobile industry are too often symbols of machismo. So poor relations between France's Macron and Salvini could prove to be a problem in negotiations to come.
The merger seeks to bring together French, Italian, American and Japanese firms in what is expected to be a Dutch merged entity, and several complications are expected.
Finally, the powerful Leftist CGT Union in Renault has so far opposed the deal and has said  "that there is nothing good to expect from a Renault FCA merger." It wants the French government to retain its voting rights and veto, especially if the Italian government gets a matching share which, it expects, would be used to "favour its national base."  CGT is also upset that it learned about the merger proposal from the media rather than from Renault management.
Will the merger overcome these myriad problems?