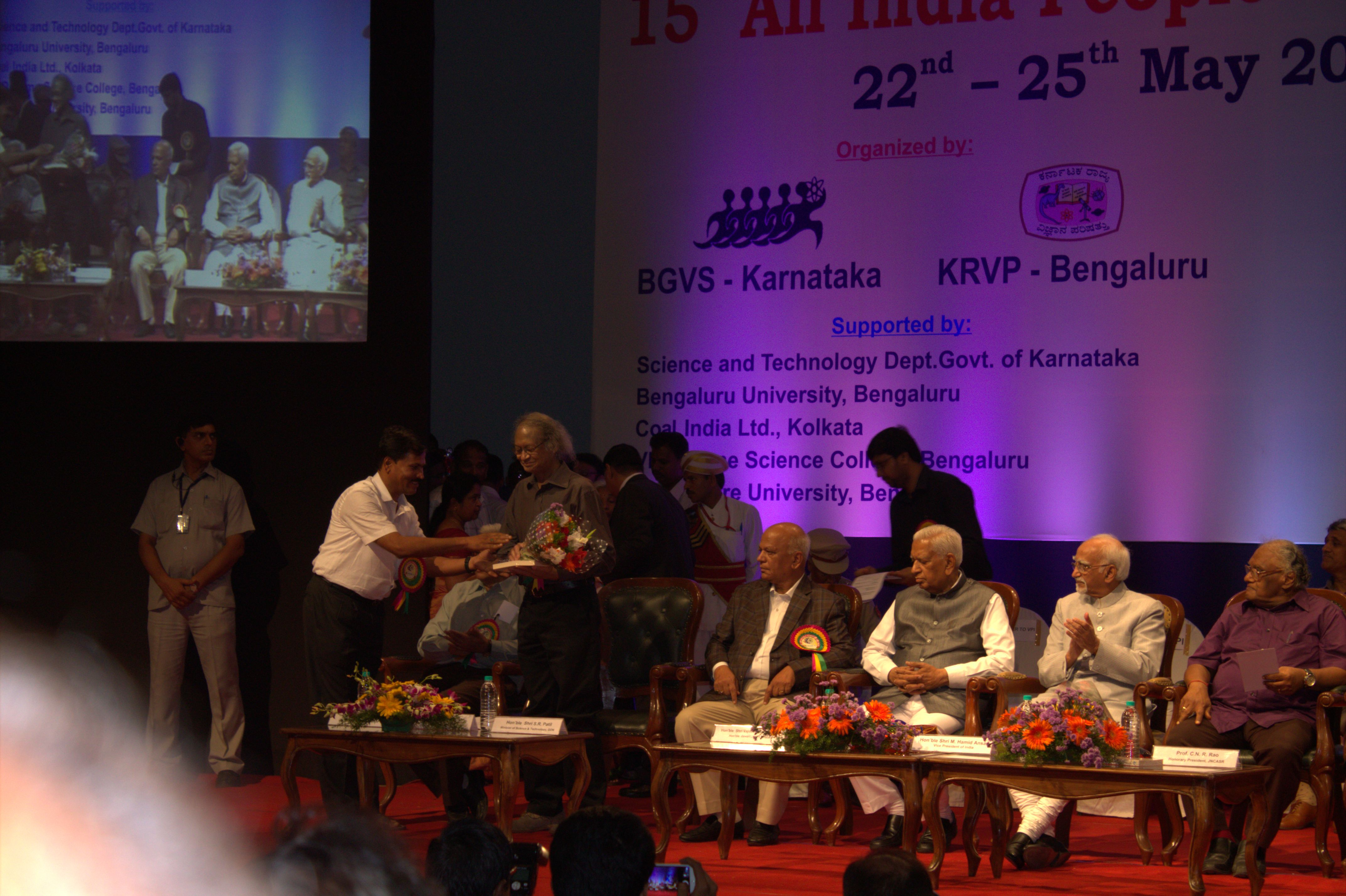 15th All India Peoples Science Congress
16/06/2015
The 15th All India Peoples Science Congress, the bi-annual event held by the All India Peoples Science Network (AIPSN), was held in Bengaluru on 22-25 May 2015. The Congress is returning to the garden city and a premier hub of science and technology (S&T)in the country after 1992 when the 3rd Congress was held on its outskirts.
The AIPSN as an organization is perhaps unique in the world. It is a voluntary network of currently 38 independent organizations working in different States, all dedicated in their own respective ways to science popularization, promotion of a scientific outlook, study and advocacy related to S&T policies and their impact on the people especially the under-privileged, and promotion of informed public participation in S&T policy formulation. While the constituent organizations engage in a variety of activities throughout the year, as a Network they also conduct many joint or coordinated activities. The bi-annual Congresses provide an opportunity to these "Peoples Science Movement" (PSM) organizations to come together, exchange experiences, discuss and arrive at an understanding of current issues in areas of interface between science and society, and plan future activities. A new set of Office Bearers and Executive Committee are also elected at the Congress for the next 2-year term.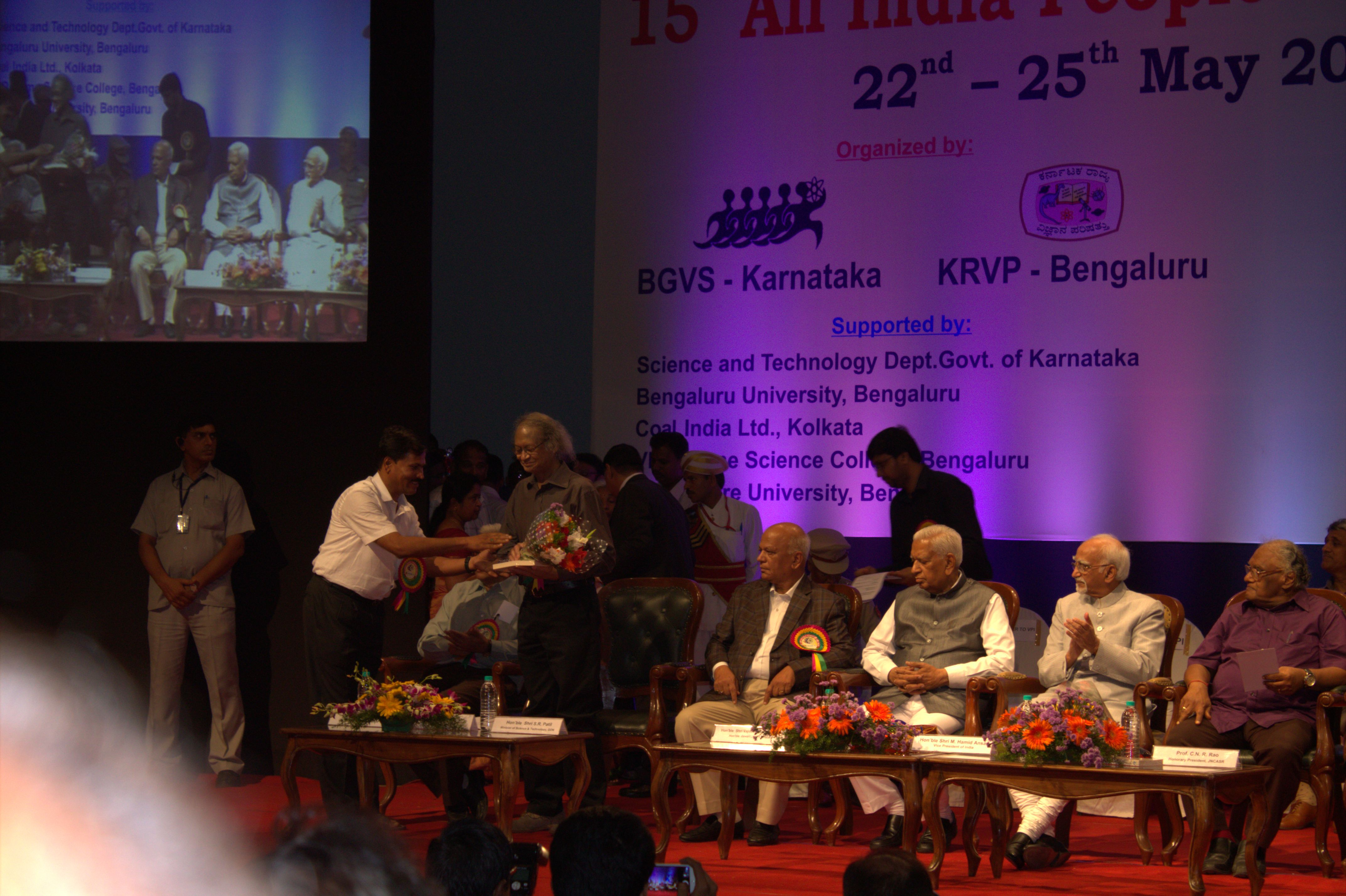 The 15th AIPSC was held this year in the backdrop of momentous political change in the country which has brought in its wake new, sometimes even unprecedented, challenges in the form of new developmental policies with significant S&T dimensions and as frontal attacks on a scientific outlook and critical thinking.
Two central themes had therefore been identified for the 15th AIPSC, namely, Promotion of Scientific Temper, and Self-Reliance and New Developmental Challenges.
Given the current ideological challenges and new developmental pathways, it was decided to divide the Congress technical sessions between 'teach-in' Workshops on 23nd May for in-depth discussions and education of AIPSN activists on these new challenges and issues, and experience-sharing and future planning Workshops on 24th May.
A public Workshop on 20 Years of WTO was held on 22nd evening Chaired by Prof.Venkatesh Athreya, former President, AIPSN and professor at Bharathidasan Univ, TN, with Amit Sengupta and Dinesh Abrol as the main speakers.
Central Themes and Main Issues
In his introductory remarks at the Inaugural Session of the Congress, D.Raghunandan, President AIPSN, highlighted the main issues underlying the two identified central Themes of the Congress.
Education continues to pose many issues not only in regard to literacy and primary education, but also in quality science education, skill development and higher education, especially given current development needs and aspirations. Public health continues to be a major concern with poor indictors not commensurate with India's standing in the world. Inroads of privatization in both sectors, and related impacts on access and growth potential of under-privileged sections, are cause for anxiety.
The impact of FDI-led "Make in India" slogan, social and environmental impact of urban "rejuvenation" and "smart cities" programmes, new industrial and infrastructure projects with accompanying land acquisition and dilution of environmental regulation, need to be examined. Problems posed by climate change, the role India needs to play notably at the Paris Summit later in 2015 and adjustments it needs to make to adopt an appropriate equitable, low-carbon pathway were also emphasized.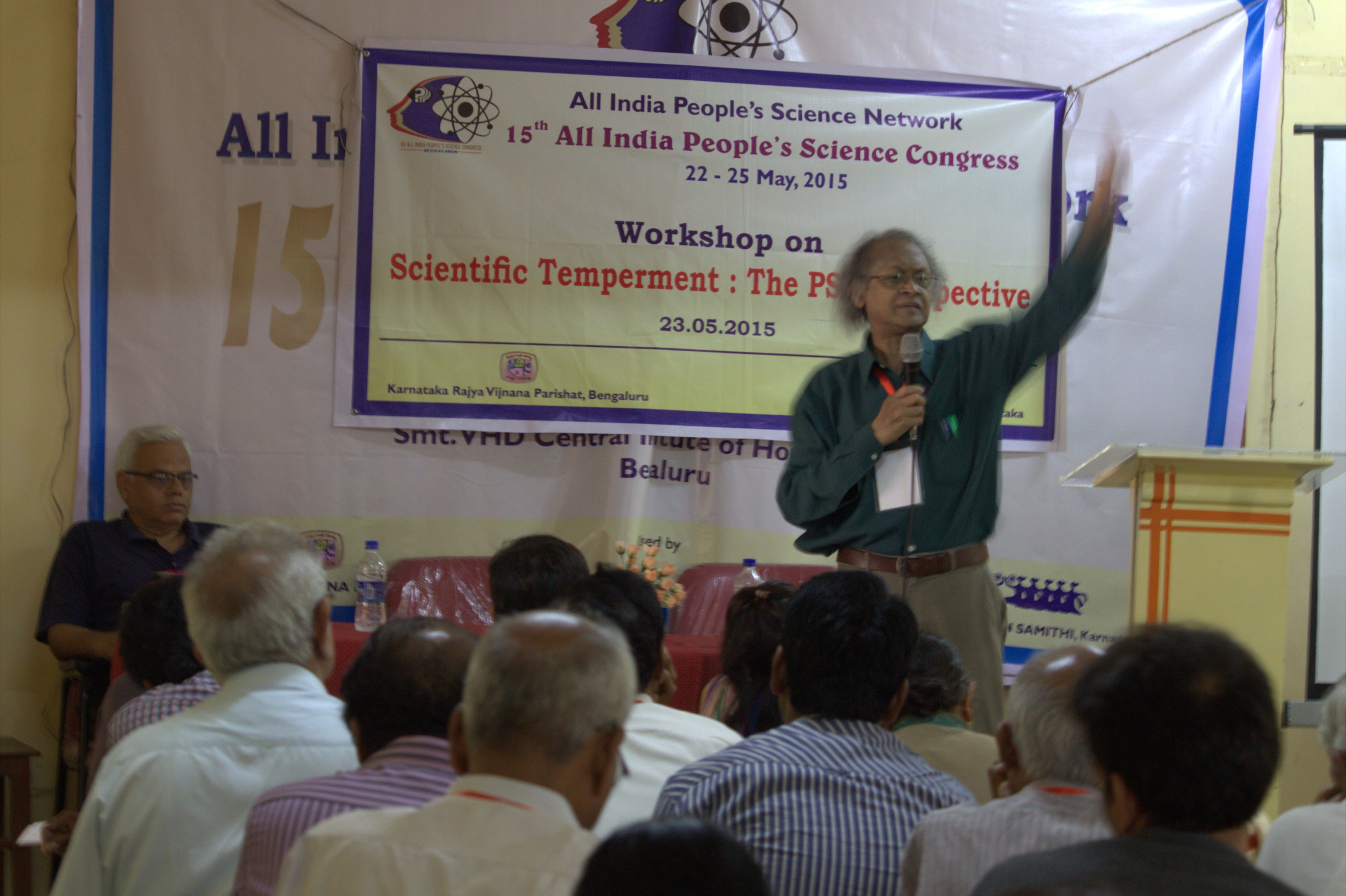 Promotion of scientific temper has been a cornerstone of the AIPSN from its inception. This has always been a Herculean task in India given obstacles of a feudalistic social order and linked obscurantist ideas, conservative social attitudes, superstitions and quasi-magical beliefs and, importantly, autocratic and patriarchal structures in the family and workplace including in governance structures, and academic and S&T Institutions. These challenges are now compounded by a systematic challenge to scientific temper, distorted views of Indian contributions to science, questioning of science itself and the scientific method of observation and evidence-based reasoning. Worse was the increasing tendency, with tacit state support, to thrust such views, to attack opposing views even if supported by rigorous scholarship, thus not only impeding growth of science in India but also obstructing the development of critical thinking so central to science.
Many new programmes for economic growth, industrialization and infrastructure have been introduced which require serious and critical examination as regards their societal implications History of science in India is being mythologized, a spirit of inquiry and a critical outlook are being attacked, autonomy of scientific and academic institutions is being systematically undermined and a culture of sycophancy and unquestioned obedience of authority is being promoted.
Inaugural Session The contemporary importance of the main Congress Themes, and the potential offered by the Peoples Science Movement platform for critical appraisal of and response to the new challenges, attracted extraordinary interest from a wide section of policy makers, scientists, other scholars and social activists. The 15th AIPSC also received financial support from the Karnataka Government especially the S&T Department, and from some public sector undertakings and other local enterprises.
The Congress was inaugurated by the Vice-President of India and Chairman of the Rajya Sabha, Dr.Hamid Ansari. Dr.Ansari congratulated the AIPSN for its long and continuing work in promotion of scientific temper and in working for peoples welfare particularly of weaker sections. He remarked that the theme of scientific temper was particularly apt at the present juncture. A vigorous battle was required against ignorance, superstition, obscurantism, irrationality and resulting bigotry. He ended his address quoting Galileo: "I do not feel obliged to feel that the same God who ahs endowed us with sense, reason and intellect has intended is to forego their use."
Distinguished scientist Prof.C.N.R.Rao, former Chairman, Scientific Advisory Council to the Prime Minister, and founder- and former President of Karnataka Bharat Gyan Vigyan Samiti, then surprised the gathering by addressing them as "fellow-conspirators!" He bemoaned the drastic reduction by government of financial outlays for scientific research and budgetary support for S&T Institutions. He also opined that S&T education, especially in universities and research institutions, was being neglected and that the nation would pay a price in the future for this neglect.
Prof.U.R.Rao, former Chairman, Indian Space Research Organization (ISRO), highlighted the crucial role played in the first two decades after Independence by active support and encouragement to S&T and the building of S&T institutions especially in frontier areas such as space and nuclear energy. While S&T would go a long way in meeting the material needs of the people, including in developing countries such s India, he warned that wasteful use of natural resources and destruction of the environment were reaching dangerous proportions. He regretted that while such major challenges remain, many highly educated people including scientists and leaders from other walks of life continued to believe in blind faith, astrology, superstitions, meaningless social behaviour, rituals and "a lot of religious mumbo jumbo," which were also being propagated by sections of the media.
Major Technical Sessions
Plenaries and sets of parallel Workshops focused on major issues under the two central Themes. The Plenary on Scientific Temper comprised two Papers presented by Raghunandan, President AIPSN and reputed scientist and science communicator Dr.D.Balasubramanian, now Director, LV Prasad Eye Institute, Hyderabad. Dr.Balasubramanian spoke about the mythification of ancient India's contributions to science at the annual "mainstream" Indian Science Congress in Mumbai in January 2015, where fantastic claims were made about expertise in plastic surgery as revealed by Ganesha's head on a human body, and interplanetary spacecraft in the Vedic period etc. He argued that there were numerous real achievements in ancient India and Indians did not need to invent things to feel proud. He also argued that these anti-science claims undermined the aspirational trajectory being set for India whereas all developing countries had progressed in recent decades only by "making friends with science."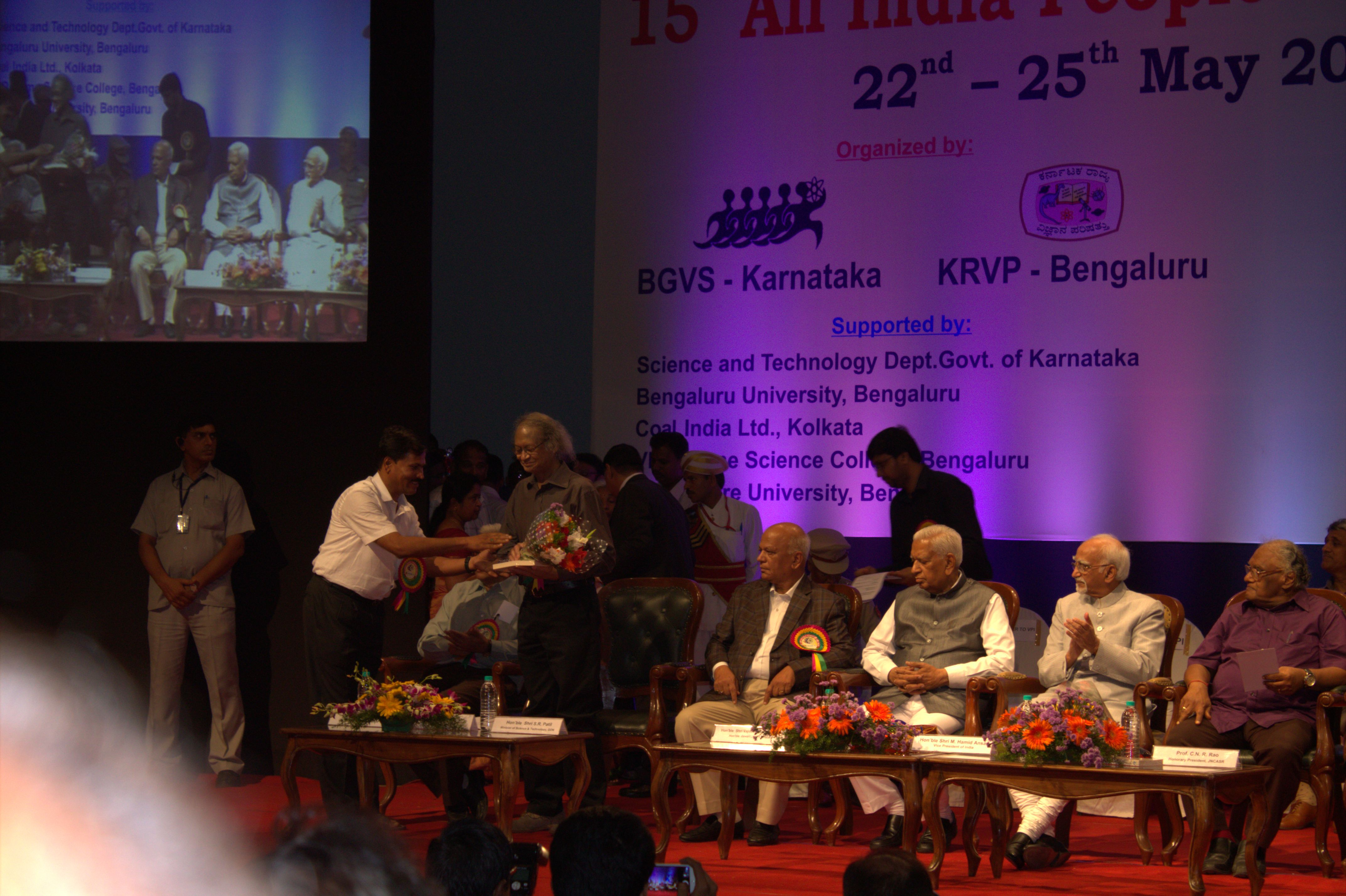 The Plenary on Scientific Temper and the well attended Workshop that followed saw lively discussions on some crucial conceptual and tactical issues involved with promotion of a scientific outlook that have been insufficiently addressed hitherto. Discussions covered what kinds of superstitions and beliefs, particularly those dealing with public behaviour and the public good, interfered with a scientific outlook and evidence-based reasoning which was identified as the focal issue. Superstitions and irrational behaviour find fertile ground to flourish in a semi-feudal social order with a dominant role played by obscurantist beliefs and their purveyors. The Workshop also discussed whether India is under-developed primarily because of "other-worldly" ideas or due to political economy and class rule. A purely rationalist approach ignores this reality and targets beliefs in isolation whereas, as Marx argued, "being determines consciousness." Hence, the battle against obscurantist ideas must be a part of struggles for social transformation.
In another well attended Workshop, detailed discussions took place on contributions to science in ancient India including in the Buddhist and Jaina traditions, as well as through interactions with other civilizations. Detailed Papers were presented by Dr.Venkateswaran and Prof.Shayamal Chakravarty, while methodological aspects were explicated by Prof.Rajan Gurukal of Indian Institute of Science, Bangalore, as to what constitutes evidence in history.
AIPSN decided to conduct study classes and campaigns on these subjects in all States and at an all India level over the next two years.
Workshops on education led by Dr.C.Ramakrishnan, Dr.Vivek Monteiro and Ms.Asha Mishra discussed different aspects of Education in detail including quality science education, progress made and constraints in the right to education, skill development and higher education. A Workshop on Make in India focused on potential negative impact of FDI-led manufacturing on S&T self-reliance, as brought out by the presentation by Dr.R. Ramachandran of Frontline. Yet another Workshop brought out dangers posed by elitist and flawed nations of "smart cities" being promoted in India when basic urban planning and infrastructure were not being addressed.
Yet another well attended Workshop addressed an all-India campaign for Anti-Superstition Bills in different States and at the central level. This Workshop saw participants from many organizations in different States. The Anti-Superstition Bill in Maharashtra for which the martyred Narendra Dabholkar had struggled for so long was used as a pivotal example, while the proposed legislation in Karnataka was actively debated. The AIPSN decided to launch all-India campaigns towards such legislations, keeping in mind the socio-cultural specifics in different states and contexts.
Environmental issues came to the fore in a Plenary and two Workshops. The on-going efforts by the central Government to systematically dilute environmenta regulation so as to give free rein to corporate groups for industrial, infrastructure and real estate activities, as well as the Report of the high Level Committee on Environmental Laws under Chairmanship of T.S.R.Subramanian, were the major focus including in key presentations by Prof.M.K.Sharma of National Law School, Bangalore, well-known environmentalist, Prof.Vijayan from Kerala, and Raghunandan, President, AIPSN. These efforts were roundly criticized for reversing many hard-won environmental protection measures and rights such as for public consultations and gram sabha approvals. A Resolution was also adopted by the Congress demanding withdrawal or scrapping of the TSR Subramanian Committee Report which was found to be in violation of many Constitutional provisions and international Treaties to which India is a party.
Successful Plenary and Workshop were also held on Gender and Social Justice issues, with specialists from Bangalore delivering keynote lectures. Plenaries and discussions on the crisis in Agriculture had key inputs from Dinesh Abrol of Delhi Science Forum and Dr.Vijoo Krishnan of All India Kisan Sabha, as well as presentations of experimental alternatives in agriculture and off-farm ventures.
Valedictory Final session on the 25th morning was attended by the Karnataka Minister for S&T who gave full-throated support to the struggle for scientific temper and against superstition, obscurantism and communalism.
Special lectures were delivered by reputed science communicator Prof.M.V.N.Murthy and Prof.Balachandra Rao, both of Bangalore. Prof.Murthy emphasized the importance of a scientific outlook not only for individual intellectual growth but also for making a nation more mature and developed. He emphasized the importance of evidence-based reasoning and critical thinking. Prof.Balachandra Rao gave a fascinating account of scientific achievements of ancient India, especially in the field of astronomy and called for a pro-active study of Indian civilizational acievements so as to deny space to myth-makers and jingoists.
15th AIPSC came to a close with te announcement of the election by the General Council of new Office-Bearers led by President Dr.Sabyasachi Chatterjee of Karnataka BGVS and General Secretary T.Ramesh of Jana Vignana Vedika Telangana, with Dr.P.Rajamanickam of Tamil Nadu Science Forum and Ms.Komal Srivastava of Rajasthan BGVS as Vice Presidents.
The Congress was a success by many indicators. A total of 54 events were held at the Congress, including cultural performances on all days and mainstreaming of cultural activities. Delegates were especially happy at the quality of discussions and inputs from resource persons both from within AIPSN and from invited speakers.
It was decided to hold the next Congress in Odisha in 2017.